Did you know there are so many new ways of using decorative white Christmas lights?

Ollny's Cool-White Christmas Lights are nothing similar to the COLD white headlights that overpowered Christmas trees in the 1980s. Now you can enjoy white decorative Christmas lights with an unimposing brightness and a coooool finish! Our LED lights are the best.

Multicolor Christmas lights look wonderful indeed, but many of us have fallen in love with the all-white color theme too, finding it refreshing and invigorating.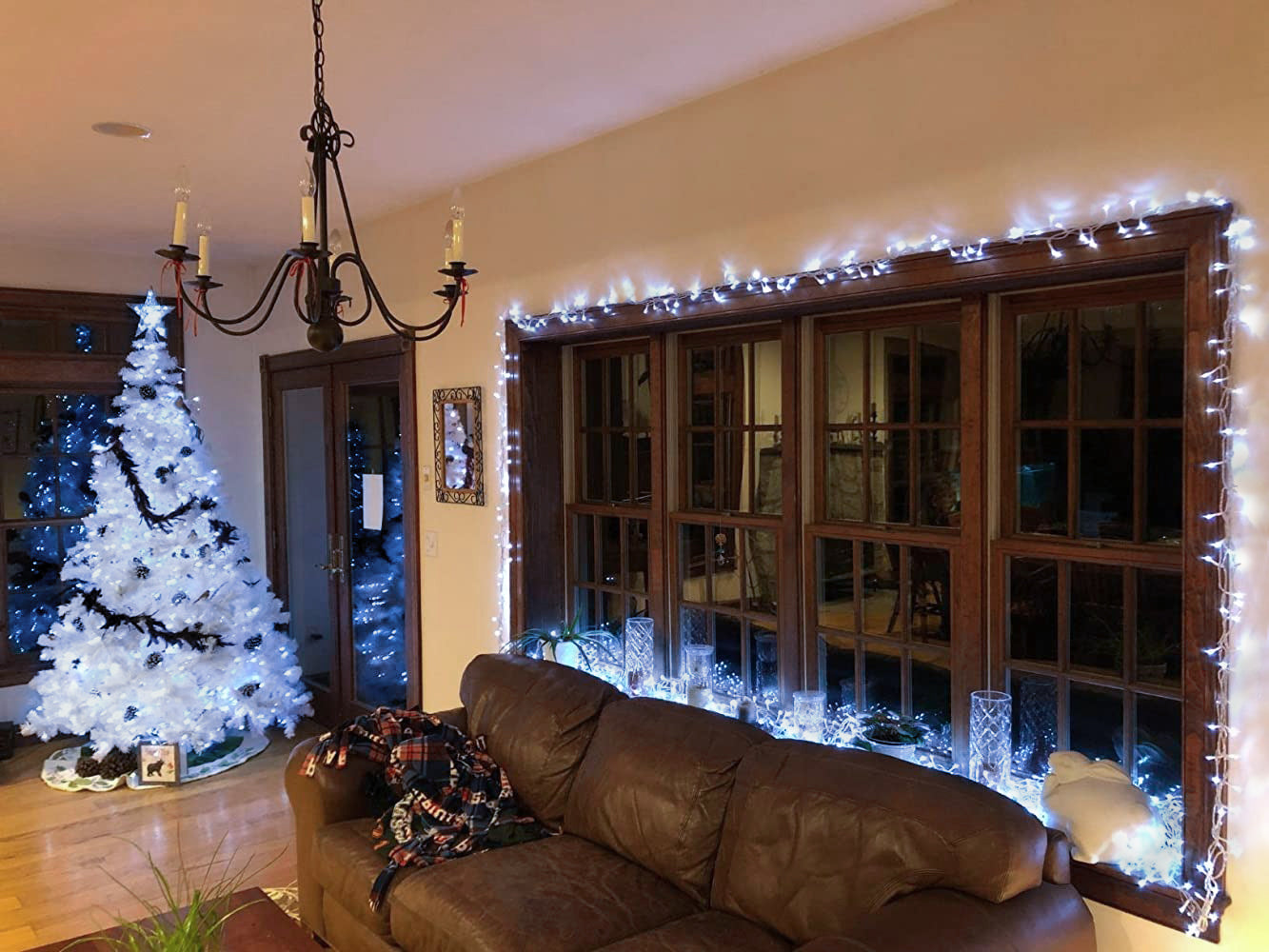 Credit: Ollny customer
With cool white lights, you can create a bit of whimsically fun, design a glitzy-glamorous display, or style it with class, chic and elegance. A splendid show-stopper is possible in every situation.
The Best Way to Use Cool White String Lights
Outdoor icicle lights from Ollny are perfect for creating a winter-wonderful atmosphere. Although our icicle lights can be used indoors, they are commercially made for safe, and effective outdoor use, especially.
With multiple mode options, you can set your icicles lights to move in waves, slow-glow or twinkling, just to name a few. Or you may opt for steady-on. The considerable length of the wire cable helps for reaching the plug to your covered electrical socket. Try surrounding your home, business, school, or more locations with gorgeous icicle lights.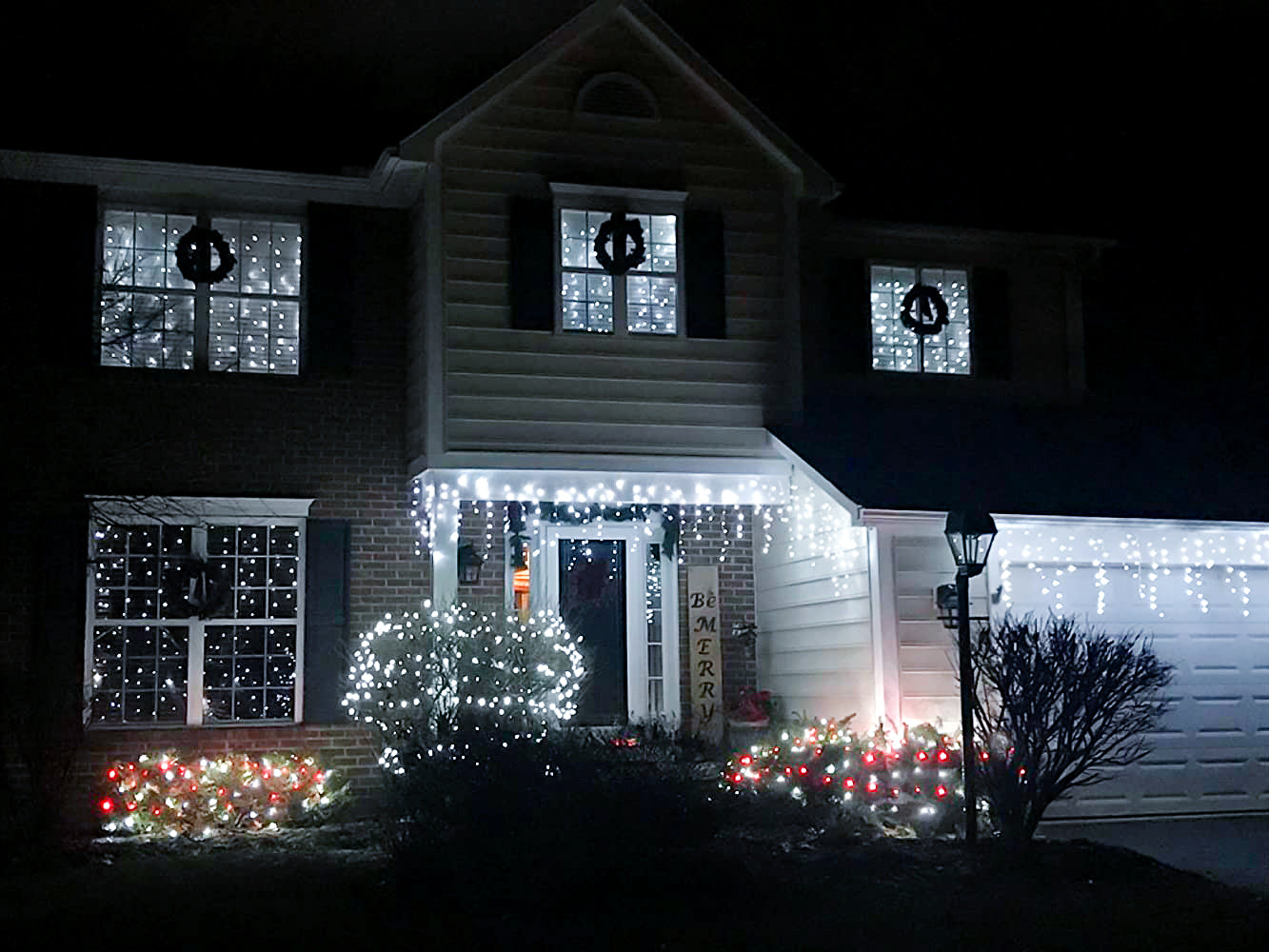 Credit: Ollny customer
2. Outdoor trees and bushes:
You can create safer pathways and porches using decorative lighting around your bushes and trees. During the winter months, you can illuminate the earlier darkened evenings by using Ollny 200 LED Christmas string lights; they add such a richness to outdoor areas.
These powerful LED lights are designed for commercial use and are enclosed in a high-quality, transparent IP44 waterproof wire.
Additionally, you may take advantage of the lengthy 66-foot length of illumination or expand your set up to three Ollny 200 LED chains. That's a whopping 198 Feet!
Along with trees and bushes, the 200 LEDs look fantastic on verandas, decks, patios, pergolas, over beams, flowerbeds, canopies, gates, gateposts, garden party tables, wedding arbors, anyplace else outside you may think of.
Credit: Ollny customer
3. Indoor Christmas trees and windows:
Cool white lighting on your home's Christmas tree is an excellent option for the versatility it provides, freeing up your changing-color themes each year. Your tinsel and ornament palette can change.
Want to add lights around your indoor windows? Well, LED lighting has been found to generate positive mood effects, so with the darker days of winter, using cool white light for multi-purposeful ways is another smart idea. You can also feel good knowing that Ollny's low-voltage energy consumption saves more money than the use of higher voltage makes by other brands.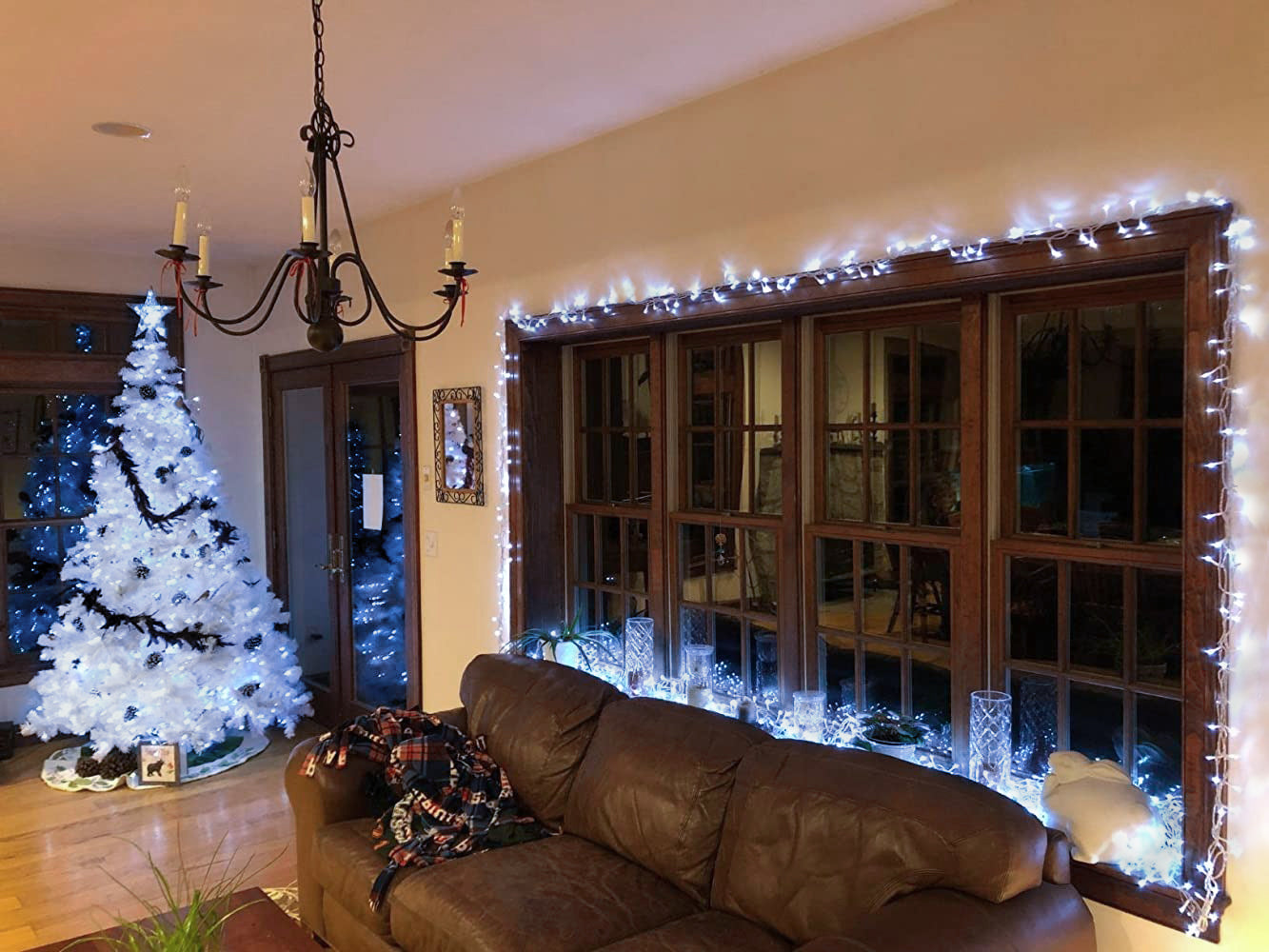 Credit: Ollny customer
4. Window display lights:
Ollny curtain fairy lights are a popular choice with our customers. Whatever the length of your home's windows, we most likely have curtain lights to complement them. Curtain light cascade down from the top of your curtain with multiple flowing branches. Your passing neighbors will remark, 'Ooooh, look at those lovely lights!' You'll hear them.
To get everyone in on the holiday spirit, try the numerous modes and effects our lights have to offer. Employing the handy remote control, you'll create something special. A mellow glow to sequenced patterns, twinkling to flashing and dancing are all possibilities. Your windows will not be boring for sure.
Credit: Ollny customer
So let's shine a new light on the use of cool white string lights!
(👉https://www.ollny.com/collections/shop-all?constraint=cool-white)
Bring tranquility into the atmosphere and vitality to the surroundings by infusing it with beauty, the Ollny way.
We'd love to hear how you use any of Ollny Christmas Lights, share your story in the comments section below.
---
← Older post Newer post →